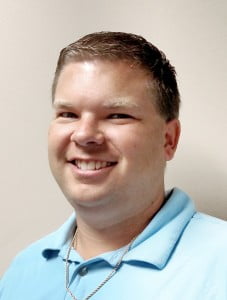 Ryan Selk joins All New Gutter's accounting team in Fargo, N.D. as an Accounting Assistant for All New Gutter. His duties will include processing all accounting functions for All New Gutter.
Ryan originally hails from Minot, M.N. and moved to Fargo in 2013. He graduated from Minot State University with a degree in Accounting and brings experience as an accountant and a payroll specialist for multiple companies.
Ryan currently lives in Fargo with his wife, Brooke, and his two children, Jackson (8) and Nolan (5).
All New Gutter:
All New Gutter has been serving the community since 1976 and specializes in seamless rain carrying systems. All New Gutter has locations in Fargo, Bismarck, N.D., Sioux Falls, S.D. and St. Cloud M.N. Also known as the Original Gutter Guys, All New Gutter's seamless gutter systems are designed to work as a complete protection and beautification package for all new home construction, existing remodeling projects or commercial properties. More information available at: www.allnewgutter.com and on Facebook at www.facebook.com/allnewgutter