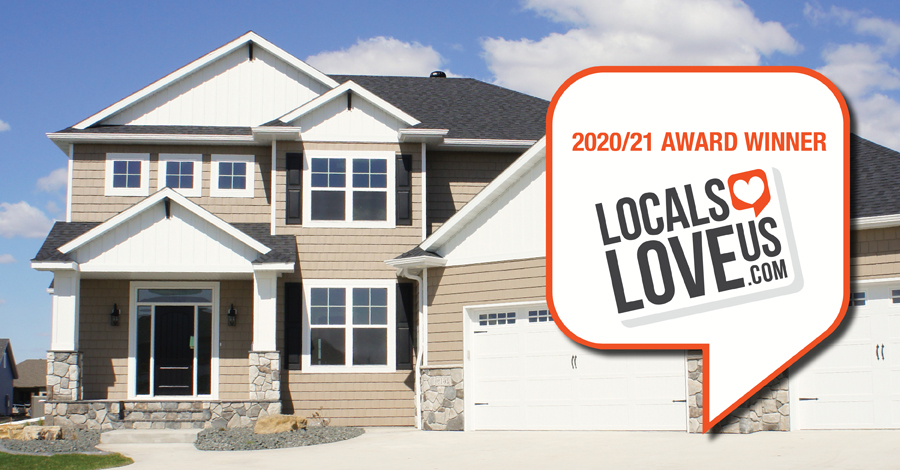 Thanks to dedicated members of our local community, All New Gutter has received the "Best Gutters and Downspouts" award from Locals Love Us Fargo for the second year in a row! We are grateful to our customers for your support in 2020, and we can't thank you enough for voting for us to ensure our spot in this year's guide.
What is Locals Love Us?
Every year, Locals Love Us compiles a guide full of the area's best businesses based on votes from members of the public. Locals Love Us covers a broad range of business categories, from contractors to day spas, in order to get the most comprehensive list of great local businesses. In addition to helping promote businesses and organizations they love, locals are also entered into drawings for great prizes just by submitting their votes.
Only businesses that were voted for and chosen by locals can make it into the Locals Love Us guide, making it a valuable resource for people looking for trusted professionals in their area. The current guide can be found on the Locals Love Us Fargo website.

More About Our Award-Winning Products
Since 1976, All New Gutter Service, Inc. has been performing expert gutter installation and replacement for customers in the Dakotas and Western Minnesota. All New Gutter has earned the reputation as the region's most trusted source for top-of-the-line seamless gutters, downspouts, soffit, fascia, and gutter protection products.
Gutters and Gutter Protection—Gutter systems from All New Gutter are manufactured on-site to ensure a perfect fit for every home we visit. Plus, our seamless gutter design virtually eliminates opportunities for leaks. Top it all off with a gutter protection system to prevent clogging, and you'll never worry about cleaning or maintaining your gutters again!
Downspouts—Unlike ordinary downspouts, our revolutionary Superspout™ swirls water like a cyclone, which allows debris to be more easily removed. This 3-inch square downspout reduces clogging and improves water flow by 100%, and is engineered to maximize your rain carrying system's draining potential.

We're here to help!
Call All New Gutter today at 701-280-9261 or fill out our convenient online contact form to schedule a free, no-obligation consultation with our experts. Follow us on Facebook, Twitter, and LinkedIn to stay up-to-date on all the latest!